Connect
Are you ready to join, explore, or get more information about the Arkansas Society of Freethinkers?
Great! The first thing you'll want to do is connect with our various communication channels. Use these links to get in the loop:
We post announcements here, along with updates of activities and current issues of special interest to secular Arkansans. "Like" our Facebook Page and you'll see pertinent updates in your Facebook News Feed.
When life in the Bible Belt wears you down, go here to take a sanity break. Converse, laugh, share stories, and relate to your fellow freethinkers. (If your freethinking is done in the closet, please note that although the Facebook group is closed and your posts cannot be seen by anyone who is not also a member of the group, anyone on your friends list can see that you belong to the ASF Facebook group.) We have lots of ancillary groups for freethinkers who want to get away from the noisy "big room" and make more personal connections, too. There are smaller Facebook groups for freethinking parents, vegans, libertarians, liberals, conservatives, skeptics, singles, couples, and more. There are groups focused on the book club, activism, and other ASF activities, too.
Find our calendar of events here, browse and share photos, find friends, and more. Meetup is our main event planning tool. We recommend adding a feed to your personal calendar so that when we post events on Meetup, your Outlook, Google, or iCal calendar is automatically updated. If you use Google's calendar, for example, you can simply add a calendar with the following URL: webcal://www.meetup.com/ARfreethinkers/events/ical/Arkansas+Society+of+Freethinkers/ .
The Reason in the Rock website
Reason in the Rock is a regional conference organized by the Arkansas Society of Freethinkers. We bring the movers and shakers of secularism and skepticism to our notch in the Bible Belt, and great things happen! Plan to attend this year's conference on March 14-15. Updates and speaker announcements are posted on the Reason in the Rock site.
Watch videos from our monthly lecture series, see the presentations by nationally known speakers at Reason in the Rock, plus see selected videos from other sources. Subscribe for updates.
Join
The Arkansas Society of Freethinkers is a state registered nonprofit organization that is very active in the Little Rock area. (We are in the process of applying for status as a charitable organization under Section 501(c)(3) of the Internal Revenue Code.)
Annual membership is only $20, and $10 for anyone 18 years of age or older who has a valid student ID. The membership period runs concurrently with the calendar year. Paying anytime during a year entitles you to vote and run in the annual election in December, as well to have a voice in other necessary measures throughout the year.
Fill out our Membership Form, and either mail it, email it, or bring it along to any event along with cash or check. If you email the form (don't forget to send a copy of your student ID if you're paying the student rate), you can pay your membership dues with PayPal:
Forms and a donation jar will be available at most of our events.
We have a board of directors, officers, committees, and a lot of volunteer positions for anyone who wants to help with our cause. Only voting members may hold certain leadership positions.
Donate while you shop with Amazon Smile
AmazonSmile is a simple and automatic way for you to support your favorite charitable organization every time you shop, at no cost to you. When you shop at smile.amazon.com, you'll find the exact same prices, selection and shopping experience as Amazon.com, with the added bonus that Amazon will donate a portion of the purchase price to your favorite charitable organization. Visit our AmazonSmile donation designation page and select Arkansas Society of Freethinkers to donate .5% of eligible purchases to ASF.
Donations
We are an all-volunteer, non-profit educational organization.  Unlike most churches, no one running this organization receives a salary or any other payment, we have no tax-exempt buildings or plush offices, no vans or buses for ski trips, and we don't receive any faith-based subsidy from the taxpayers.  We rely on your generous donations to help us pay for displays, fliers, business cards, website hosting, venue rentals, etc.
Please donate to the Arkansas Society of Freethinkers today using the PayPal link below, or mail your check to:
Arkansas Society of Freethinkers P.O. Box 4135 Little Rock, AR  72214
 Volunteer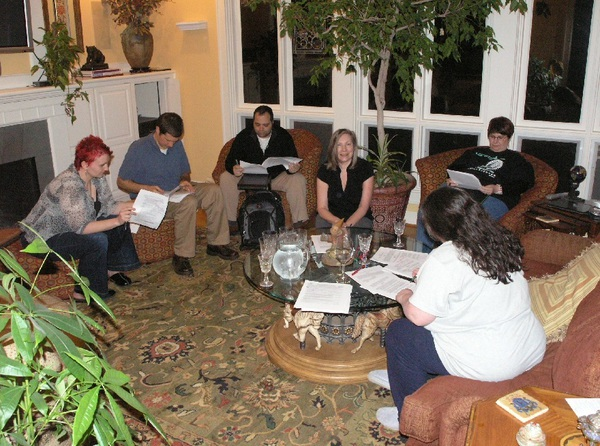 Volunteering is a great way to make new friends and support a cause you care about. Helping us helps you, too! Want to develop your technical, leadership, and organizational skills? With the Arkansas Society of Freethinkers, you can accomplish amazing things.
Most importantly, volunteering to help the Arkansas Society of Freethinkers is fun!
We always need help on committees, and we always need help making our events happen!
Bring a snack to a potluck
Keep Arkansas Beautiful during out quarterly Adopt-a-Highway cleanup
Volunteer for Reason in the Rock
Find speakers for our lecture series
Take part in the holiday parade
Erect and take down our Winter Solstice Display
Host a "Sinner's Cinema" movie night
Coordinate a bike ride
Host a party
Coordinate a charity drive
Do you have a great idea for an event or activity? Let's hear it!
Contact us today to discuss volunteer opportunities.